BRIGHT LIGHTS THE NIGHT AT POTOMAC SPEEDWAY
    Alex Bright picked up his first ARDC Midget win of the 2013 season when the American Racing Driver's Club rolled into Potomac Speedway, Maryland for the first night of racing.
    Bright, who led all competitors with four wins last season, had been consistent through the first three ARDC events of the year – his best finish coming during the season opener at New Egypt where he finished third behind Steve Buckwalter and Bruce Buckwalter, Jr.  Bright is still ahead of his 2012 pace where his first win came in June at the Grandview Speedway.
    Bear, DE competitor, Shawn Jackson not only led the twenty-five lap event but had pulled away to a straightaway lead.  Bright, who started eleventh at the green, lost several positions in the early going.  By the time he made his way to second, Jackson was long gone.  "When I got to second and saw how much of a lead he (Jackson) had," Bright stated, "I knew I had my work cut out."  But as luck would have it – good for Bright, not so for Jackson – a caution was needed, erasing Jackson's advantage.  It was then that Bright noticed that Jackson had lost his edge.  "He wasn't pulling down the staightaway like he had been."  For Jackson, his #7 starting missing and popping.  "I didn't know what was wrong."  Jackson headed to the pits shortly after Bright took the lead.  It would be learned later that a broken spark plug had caused the issue in Jackson's mount.
    With Bright in the lead, the race was on for second as PJ Gargiulo and Trevor Kobylarz literally, ran wheel to wheel for the checkered flag.  "I did everything I could," Gargiulo stated.  "I was determined that Trevor might push me across the finish line but I was going to finish ahead of him."  "It was just good racing," Kobylarz stated.
    Bright took the win in his Joe Hemler owned, Lightcap Electric #77 .  Gargiulo picked up his first podium finish of the season with his second while Kobylarz finished third.  Ryan Greth earned his third fourth place finish of the season while Steven Drevicki salvaged a top five finish – crossing the line with very little air in either rear tire.
    Tony DiMattia, an ARDC rookie this season, earned his best result of the season with a ninth place finish.
FINISH (25 laps)
1. Alex Bright  2. PJ Gargiulo  3. Trevor Kobylarz  4. Ryan Greth  5. Steven Drevicki  6. Steven Bull  7. Carey Becker  8. Brett Arndt  9. Tony DiMattia  10. Steve Craig  11. Dusty Heistand  12. Billy Courtwright  13. Brian Gilmore  14. Brenden Bright  15. Shawn Jackson  16. Randy Reid  17. Bruce Buckwalter, Jr. 18. Greg Fitzpatrick
DNS – Mark Gilmore, Jimmy Glenn, Kyle Lick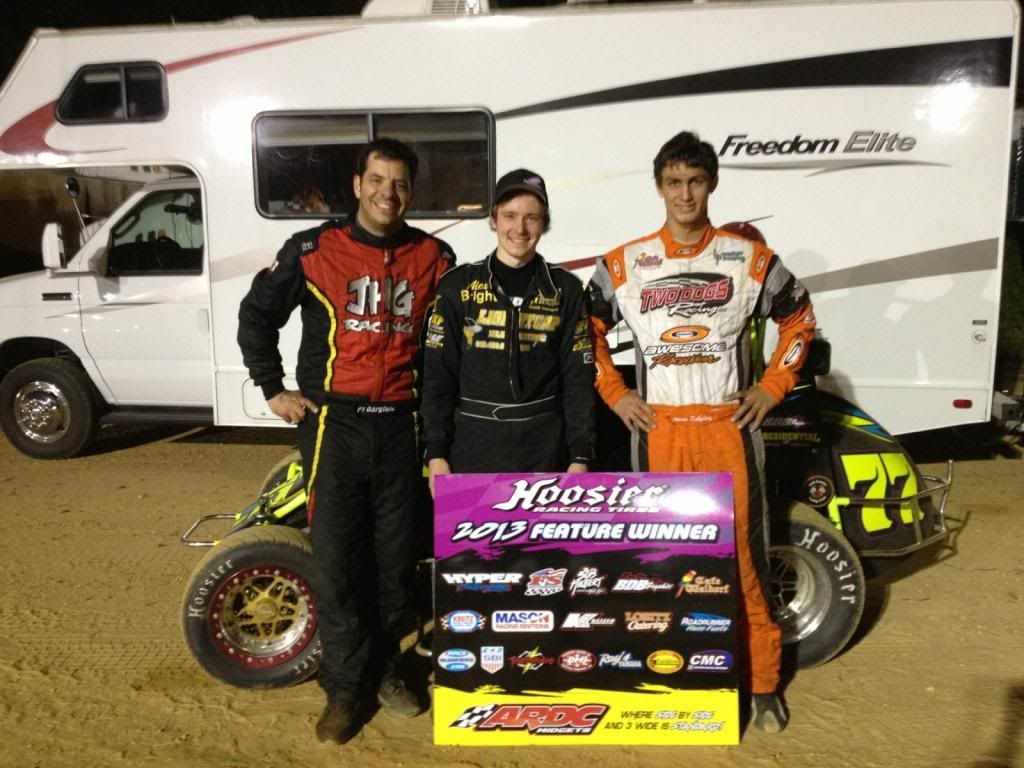 BRUCE BUCKWALTER, JR IS ALL SMILES AFTER WIN AT WINCHESTER
   Bruce Buckwalter, Jr. turned over a new leaf on Saturday when he took the twenty-five lap ARDC feature at the Winchester Speedway and did so in convincing style!!
    For the first time in his career, Buckwalter, Jr. was winless in 2012.  Despite many good runs, luck was just not on his side.  "When we finished, we had good finishes,' Buckwalter, explained.  "But we had so many good runs when we just didn't finish!"  But the winless streak was over as Buckwalter celebrated from the top of the roll cage on his BDB Construction #83.
    Jimmy Glenn took command at the start of the twenty five lap main event and put some daylight between himself and second place contender, Tony DiMattia.  Dimattia had shed his rookie stripe over the weekend and was enjoying a strong run in second.  As Glenn pulled away, DiMattia was soon battling with Buckwalter who took over second on lap four after starting in the third row.
    Buckwalter began to erase Glenn's lead.  A caution was needed for Dusty Hiestand on lap.  Shawn Jackson relinquished a top five spot when he headed to the pits under the caution.  Contact on the restart sent the DeGre Engineering car of Steven Drevicki to the pits with a flat and another caution was needed.
    Three times Glenn led Buckwalter back to the green flag.  On the third attempt, Buckwalter made his best move and was the race leader when lap eight was scored.
    Buckwalter pulled away as the race passed the half way point with Glenn, Friday night winner, Alex Bright, DiMattia and Ryan Greth running in the top five and PJ Gargiulo and Trevor Kobylarz starting to challenge for a top five position.
    A red flag was needed when Bright got sideways going into turn one, collecting DiMattia in the process.  DiMattia got upside down as Gargiulo and Greth were also collected.  Only Gargiulo was able to restart following the incident – caused when Bright's arm restraints got caught inside something in the cockpit.
    With just seven laps remaining, there was a lot of racing still to come.  Brett Arndt raced his way back to fourth after an earlier incident.  Kobylarz and Glenn put on a show for second as the two drivers used slide jobs to gain the second position.
    With the checkered waving, Buckwalter raced to his first win of the season and fifth win in a row for the Elite Chassis built by Steve Buckwalter.  Kobylarz won the battle with Glenn who finished a strong third.  Gargiulo finished fourth with Arndt rounding out the top five.
    ARDC action returns with the Eastern Storm at the Grandview Speedway on June 5th.
Complete finish for Winchester Speedway:  Bruce Buckwalter, Jr., Trevor Kobylarz, Jimmy Glenn, P.J. Gargiulo, Brett Arndt, Steven Bull, Carey Becker, Joe Butera, Billy Courtwright, Dusty Heistand, Alex Bright, Tony DiMattia, Ryan Greth, Brenden Bright, Steven Drevicki, Brian Gilmore, Greg Fitzpatrick, Shawn Jackson
Contact – Deb Smith For Immediate Release
phone (610) 972-6176
email – dsfotog@aol.com