Third Time Is The Charm for Jackson
Three times Bear, DE driver, Shawn Jackson has paced the American Racing Drivers Club (ARDC) field of wingless midgets and each time, impressive runs have ended with mechanical failures. But the third time was the charm as ARDC made its second visit to the Williams Grove Speedway and now Jackson's name will be recorded with a win at the home of open wheel racing in Central Pennsylvania.
It all went Jackson's way on Friday night as he started out the night with a heat win over Trevor Kobylarz.
For the start of the twenty lap main event, Jackson lined up on the outside of Topton, PA driver, Brett Arndt and then gunned his red #7 into the lead. Jackson immediately began to pull away from the field as Nick Wean, Drew Heistand, Jason Rice and Kyle Lick worked on sorting out the top five positions behind the leaders.
The red flag was needed on lap four when Heistand backed into the turn 3 wall and flipping. Brake issues were the cause and Heistand walked away from the incident uninjured.
On the restart, Jackson again took command as PJ Gargiulo took the fourth spot from Lick. Wean made several attempts to take second from Arndt but Arndt was having none of it as he maintained his grip on the position.
Jackson, Arndt, Wean, Gargiulo and Lick were the top five at half way as Bruce Buckwalter, Jr. and Jason Rice challenged for a spot in the top five. One lap later, Gargiulo took over third from Wean .
The final laps of the race saw some great racing as Buckwalter and Rice worked on Lick for fifth and then Ryan Greth, Tony DiMattia and Ryan Watt moved in to challenge Rice for position.
With the checkered waving, Jackson drove to his first ever win in a midget followed by Arndt with a season best finish in second. Gargiulo picked up the final podium finish in third with Wean and B. Buckwalter completing the top five has Lick's #8 shut off coming for the checkered flag.
ARDC next travels to North Carolina for races at Dixieland and County Line Speedways on June 28-29.
Finish (20 Laps)
1 – Shawn Jackson 2 – Brett Arndt 3 – PJ Gargiulo 4 – Nick Wean 5 – Bruce Buckwalter, Jr. 6 – Ryan Greth 7 – Tony DiMattia 8 – Jason Rice 9 – Jimmy Glenn 10 – Ryan Watt 11 – Tim Buckwalter 12 – Trevor Kobylarz 13 – Steven Drevicki 14 – John Barnett 15 – Kyle Lick 16 – Jamie Spears 17 – Drew Heistand
DNS – Steven Bull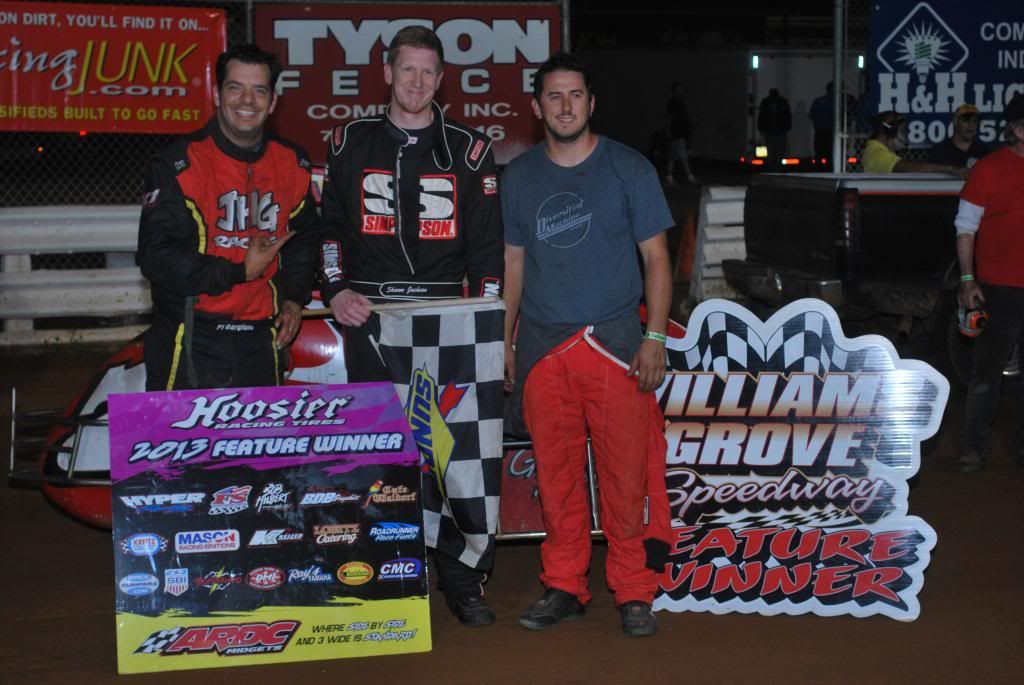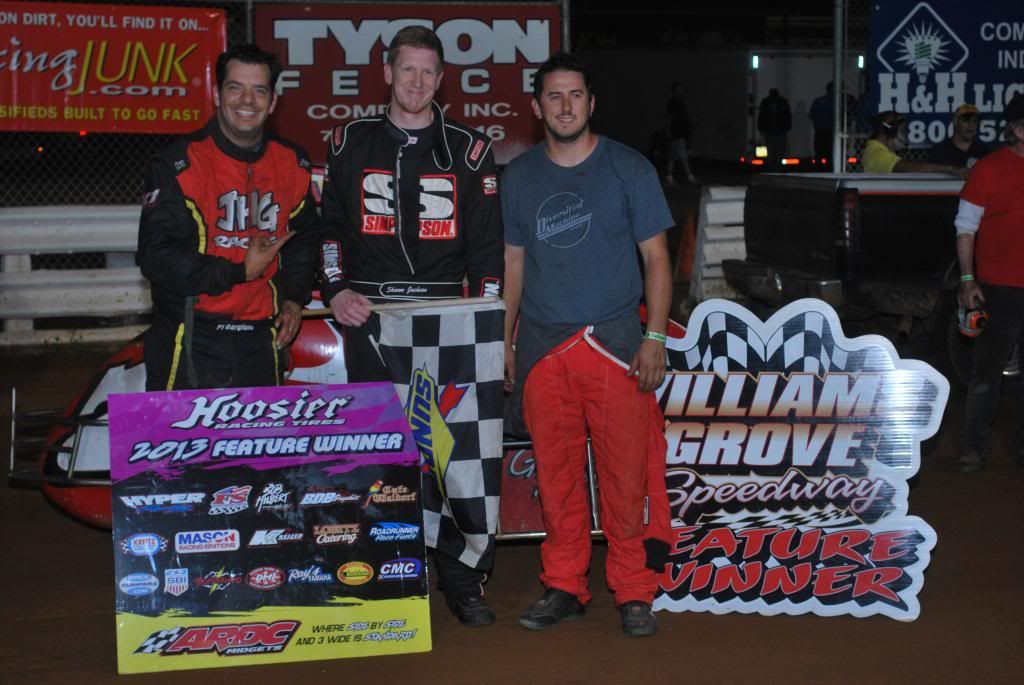 Top 3 Finishers – Pj Gargiulo (3rd), Shawn Jackson (1st), Brett Arndt (2nd)  (Picture by Deb Smith)
Hyper Hard Charger – Pj Gargiulo (Photo by Deb Smith)
Contact – Deb Smith                                                                                            

phone (610) 972-6176